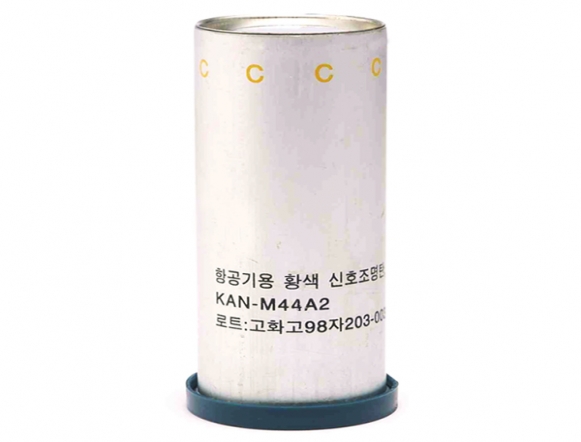 Signal, Illumination, Aircraft, Yellow Single Star KAN-M44A2
제품제원
NSN : KAN-M43A2…1370-00-618-5790
KAN-M44A2…1370-00-618-5791
KAN-M45A2…1370-00-618-2402
Diameter : Ø 43.1 × 97.2mm
Weight : KAN-M43A2…0.122Kg
KAN-M44A2…0.118Kg
KAN-M45A2…0.145Kg
Firearms of use : Pyrotechnic Pistol or Pyrotechnic Projector
Primer : Percussion M39A1
Materials : Aluminum
Color : Silver
Filler charge : Illuminant compositions
Performance : Burning time - 7 to 13 sec
Luminous Intensity - KAN-M43A2 - min. 25,000 candle power
KAN-M44A2…min. 25,000 candle powe
KAN-M45A2…min. 25,000 candle powe
Packing : 80 per wooden box
Weight : 20.1 Kg
Cube : 0.035㎥
Dimensions : 462.0×277.0×271.0㎜
기능
The aircraft single star signals are available in red, yellow, and green.
The signals occur to the illumination and flash of a peculiar colors, after the signals are loaded t hand pyrotechnic projector and the firing pin strikes the primer.
용도

The aircraft signals are used for signalling from air to air, air to surface, surface to
surface, and surface to air in training.