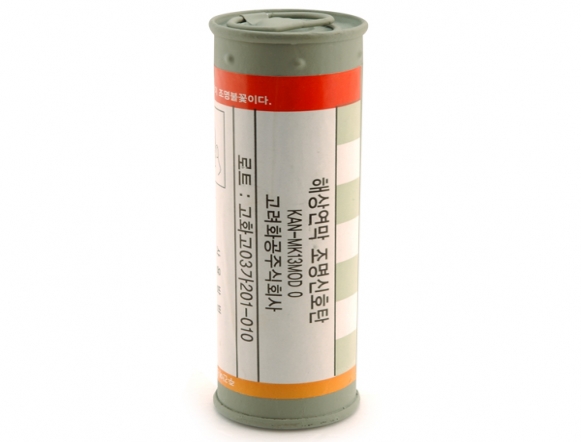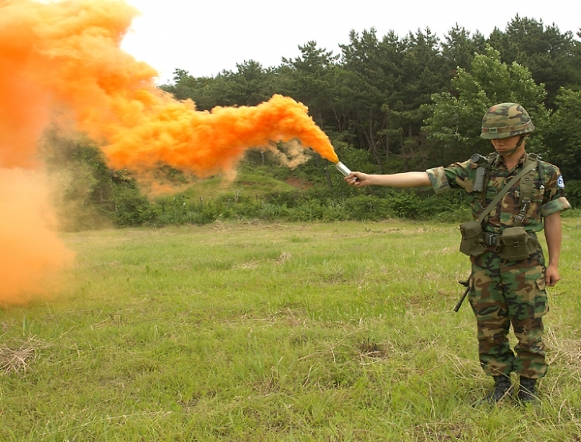 Signal, Smoke And Illumination, Marine, KAN 13 MOD 0
제품제원
NSN : 1370-00-309-5028
Model : KAN-MK 13 MOD 0 / KL275
Diameter : Approx Ø42×131mm
Weight : Approx 200±5gr
Filler charge : Smoke and illuminant composition
Performance :
SECTION ILLUMINANT CHARGE SMOKE CHARGE
Burning time 12-28 seconds 10-26 seconds
Color Red Orange

Packing : 100per wooden box
Weight : 35.0 kg
Cube : 0.1㎥
Dimensions : 593.0 ×294.0 ×361.0 mm
기능
One end releases red illuminant for night-time use. The other end releases Orange Smoke for day-time use.
Method of actuation : During day-time, open the orange cap, seize the body with one hand, and make the percussion ring stand up. Pull the cord, then it will be ignited. During night-time, open the red cap, and discard the cap by pulling the ring. Pull the cord, then it will be ignited.
용도

The signal is a metal cylinder filled with illuminant composition in one end and smoke composition in the other.
Each end is fitted with a plastic protective cap covering a pull ring and lanyard. The cap on the flare end has three molded projections or beads on the face for night identification.
The lanyard on the flare end pull ring has a washer tied to the end for further identification in darkness.
The smoke end cap is smooth. Each pull ring is connected to a friction wire extending through an internal igniter cup containing ignition composition.
A label around the signal body further identifies each end and provides precise instructions for use.