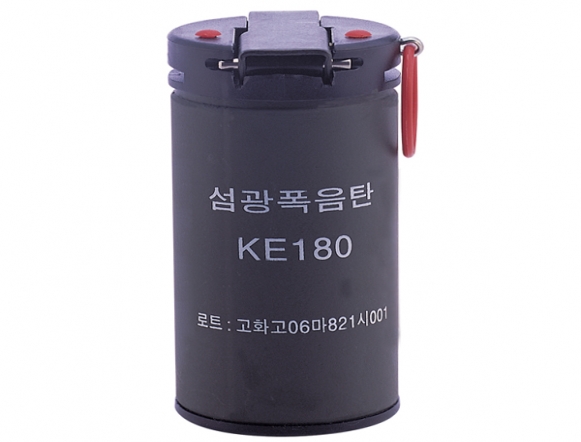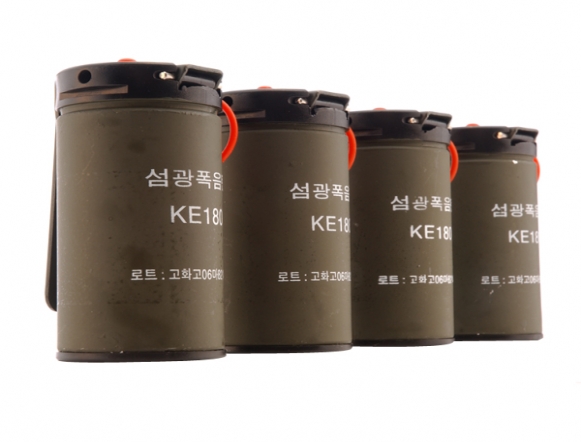 Grenade, Hand, Stun, KE180
제품제원
NSN : 1330-37-509-1936
Modell(DODIC) : KE180/KG17
Size : Ø50.0×104.0mm
Igniting Method : Silent ignition system
Weight : 0.170Kg, Approx
Color : Body - Olive Drab, Fuze - Black
Charge : Explosion / Flash charge(9g, Approx)
Performance : Delay Time - Max. 2sec.
Explosion - Min. 110dB
Flash - Min. 90,000CP
Packing : 1Rd/Container, 15Rds/Carton(Barrier Bag), 30Rds/Wooden Box
Weight : 13.0 Kg
Cube :0.035㎥
Dimensions : 475.0×287.0×339.0(mm)
기능
On release of the lever when the grenade has been thrown, the lever is pivoted outwardly from the head-piece and body by the plug which is in turn forced upwardly in the head-piece by the spring. Then igniting mechanism make to explode and flash within 2 seconds
용도

This grenade, hand, non-lethal, KE180 is used to rescue hijacked plane and simulate hand grenade when special forces operate counter-terrorism and military tactics operation. Strong explosion and flash take fight out of enemy.

특성

attributes
Method 1: Hand-Thrown Ignition
- Throw a grenade at a target immediately after removal of safety pin assembled pulling ring.
Method 2 : Booby-Trap Ignition
- In special situations, grenade is ignited by booby-trap trip wire on multipurpose.